Hi lovely students, faculty, staff and friends,
This year the book chosen as the first year summer read is
Wine to Water: a bartenders quest to bring clean water to the world
by Doc Hendley. This is a non-fiction book about a bartender who decides to help bring clean water to those without it.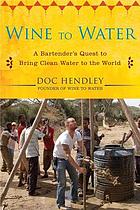 There will be two events associated with this book.
August 18th at 12:30pm in the Cone Ballroom in the EUC there will be a book discussion among first year students. First Year students can sign up for the program at
this link
.
September 12th at 7:00pm in the Aycock Auditorium there will be a presentation by the author. The event is free and open to the public, with a book signing to follow.
hope to see you!
Love,
Irma